Golden Frontier Berhad ("GFB" or "the Company") was incorporated in Malaysia on 6 September 1972 under The Companies Act 1965, as a private limited company under the name of Soon Seng Frozen Food Sdn Bhd, it subsequently changed its name to Soon Seng Corporation (M) Sdn Bhd on 9 May 1985. On 1 November 1989, the Company converted itself into a public company and changed its name to Soon Seng Corporation (M) Bhd. It assumed its present name on 22 June 1990 and was subsequently listed on the Main Board of the Bursa Malaysia Securities Berhad ("Bursa Malaysia") on 12 November 1991.

GFB was initially engaged in the business of processing frozen shrimps and prawns for export. The Company subsequently diversified into the manufacturing and sales of corrugated fibreboard cartons through its subsidiary company, Golden Frontier Packaging Sdn Bhd. These two activities became the main core businesses of the Golden Frontier Group of Companies ("the Group") at the time of public listing. These contributed approximately 40% and 60% of the Group's turnover respectively.

Thereafter, after several corporate restructuring exercises, the Group ventured into new businesses, expanding the profit-making businesses and divesting its loss-making operations in Malaysia. In year 1997 the Group ventured into its first overseas investment, opening a corrugated fibreboard carton factory in Ho Chi Minh City, Vietnam, to take advantage of the fast-expanding Vietnamese market. This overseas venture was subsequently followed by the opening of two more factories, a second factory in Ho Chi Minh City and the third factory in Hanoi, Vietnam.

The overseas companies in Vietnam were subsequently disposed off in year 2011 with a huge profit when the Group felt that conditions of drastic devaluation of the Vietnamese currency, over-heating economy, runaway inflation and interest rates coupled with intense competition made it a good time to exit from the Vietnam market.

In consideration of the thin trading volume in the stock market and undervalue of stock price, coupled with sufficient internal fund for working capital as well as future expansion, the major shareholder, Frontier Equity Sdn Bhd, felt it not necessary to remain listed on Bursa Malaysia and has in January 2012 offered to buy back all the shares not already held by the major shareholders. The Group was subsequently delisted from Bursa Malaysia in May 2012.

Today, the Group is still moving in the direction to transform itself to be an integrated player in the paper and paper related industries in the longer term, setting its foot locally first before regionalizing its presence in other countries when opportunities emerge.

The next 2 to 3 years will be the Group's Investment years as we embark on our journey to achieve our aspiration. Apart from capacity expansion of our existing corrugating plant, the Group is also looking to invest in other paper related businesses and expand into other domestic regions in the corrugated carton industry. The expansion of our corrugated carton business will not only ensure broader income but more importantly, this will set the prerequisites, synergy and strong foundation for the group to move upstream into the paper mill business with greater confidence and brighter prospect in the longer term.

Al always, the Group takes a prudent stance and will not rush into any new investment without having the confidence of favorable end results. Going forward, we will plan and execute our new investment and transformation in an orderly manner, albeit slowly, to ensure that we will progress and achieve our goals accordingly.
We will excel in all our goals by always being more competitive than others through effective leadership and strong teamwork.
Incorporated on 6 September 1972 as Soon Seng Frozen Food Sdn Bhd
Started business in processing of frozen shrimps and prawns
Changed name to Soon Seng Corporation (M) Sdn Bhd on 9 May 1985
Set up corrugated cartons joint-venture business in year 1987 through its subsidiary, Golden Frontier Packaging Sdn Bhd (GFP) with Japanese partner
Converted into public company as Soon Seng Corporation (M) Bhd on 1 November 1989
Assumed present name, Golden Frontier Berhad on 22 June 1990
Public listing on Main Board of Bursa Malaysia on 12 November 1991
Started business of printing of gift/display boxes and packaging materials through Golden Frontier Printers Sdn Bhd in September 1992
Entered joint-venture with Japanese partner to produce electronic components, electronic composite components, precision plastic moldings and toolings for the electronic and telecommunications industries through Golden Frontier Technology Sdn Bhd (GF Tech)
GFP became wholly-owned subsidiary in October 1993
Entered property development business in March 1994 through the acquisition of 71% of shares in GFB Development Sdn Bhd
Disposed of frozen food business in December 1995
Acquired Golden Frontier Agency Sdn Bhd in March 1996 which was involved in the trading of used commercial and private motor vehicles
Sold off printing business in July 1996
Ventured overseas to Ho Chi Minh City, Vietnam in year 1997 in the corrugated cartons business through Alcamax Packaging (Vietnam) Co Ltd (APV), becoming the 1st Malaysian corrugated carton manufacturer in Vietnam
Underwent internal restructuring exercise in year 2002, resulting in the closure of 6 inactive companies
Disposed of GF Tech on 1 October 2002 to concentrate on its core businesses of corrugated cartons
Started 2nd corrugated carton factory, AP Packaging (Hanoi) Co Ltd in Hanoi, Vietnam in April 2005
Acquired shares in Packamex (Vietnam) Co Ltd, a converting company in Ho Chi Minh City, Vietnam on 1 December 2005
Converted APV into public company under the name of Alcamax Packaging (Vietnam) Joint Stock Company on 1 October 2009
Delisted from the Bursa Malaysia in May 2012 after Frontier Equity Sdn Bhd acquired 100% of the shares in the company
Malaysia GFP remains one of the leading corrugated carton manufacturers in Malaysia
Modern, state-of-the-art machines
Use of specialized, efficient software to monitor sales, production and delivery status
Employ Quality Awareness programmes, Kaizen activities
Supplying to many MNCs and big local companies
Major customers include Sony, Sharp, Sanyo, Bard, Robert Bosch, Nibong Tebal Paper Mill, etc.
Achieved ISO 9002 certification since October 1997
Upgraded ISO 9002 certification to ISO 9001:2000 since October 2001, the first corrugator in the northern region and 2nd in Malaysia
Achieved Sony Green Partner status in July 2003
Won Malaysia Golden Bull Award in year 2004
Won Malaysia Enterprise 50 Award in year 2007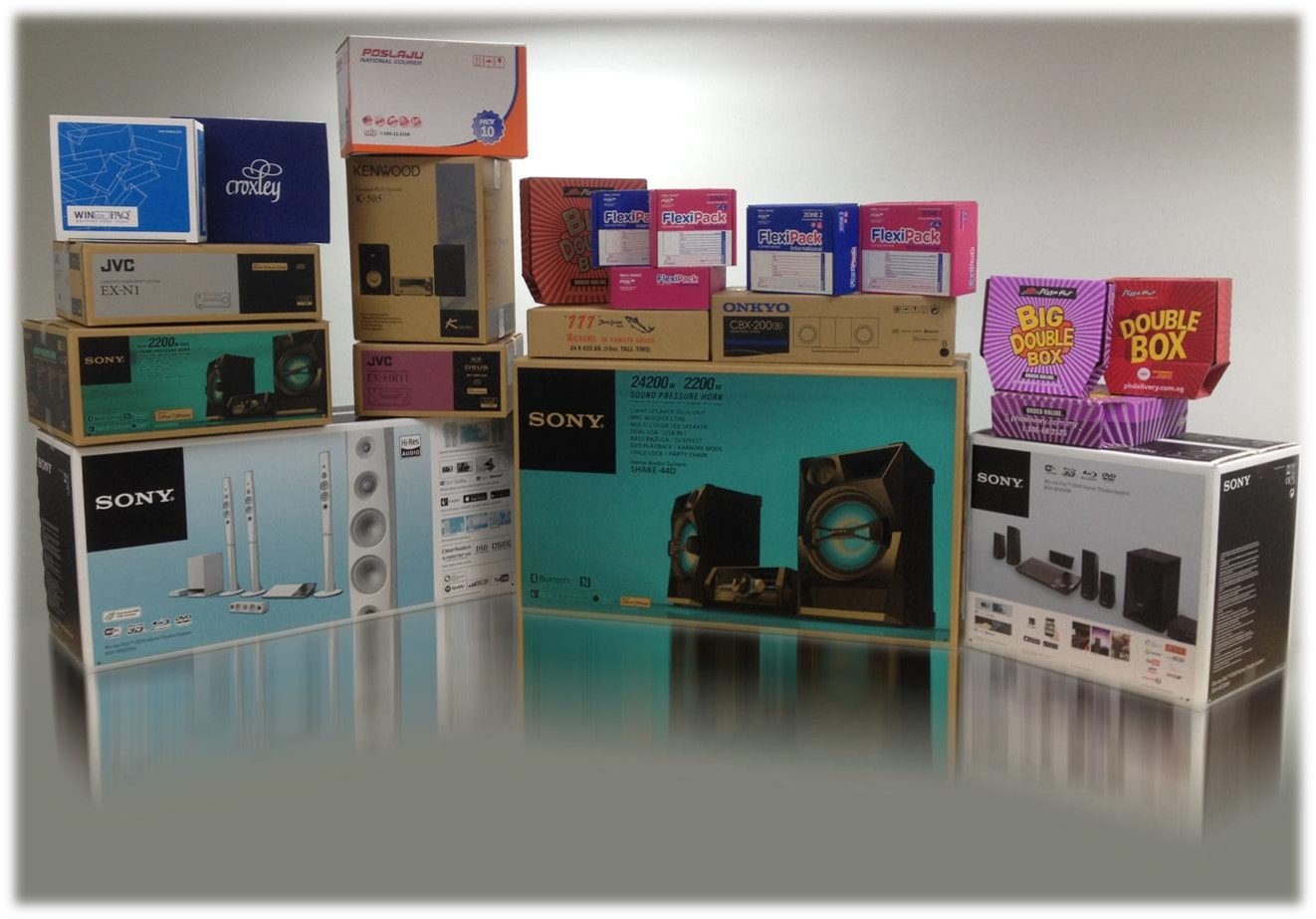 Development
1st project – Pangsapuri Pinang Indah (2 blocks condominiums, 140 units), completed in year 1997
2nd project – Penhill Perdana Condo (2 blocks condominiums, 122 units), completed in year 2007
3rd project – Penhill Garden, expected to construct in year 2014
Tenancy
Plot 68, Jalan Perusahaan Maju 6, Phase 4, Prai Industrial Estate, Perai, Seberang Prai, Penang.
Other Land Banks 
Plot 15 (Part of Lot 211), Mukim 12, Seberang Perai Selatan, Penang
Lot 447, 448, 449 and 723, Mukim 12, Seberang Perai Selatan, Penang